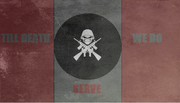 The United Kridor Federation is a very Militaristic power, they are only a small power at the moment but are slowly expanding outwards into Ancerious making trade routes with other races and Allies and close friends with the Nex. Even though they are small there military is vast and they are already deployed on certain operations around Ancerious. "Nothing that we know can withstand the Might of are Artillery"- Captain Fredrick Boven.
Kridor Information:
Edit
DATE OF FOUNDING: 2077
MAJORITY SPECIES: Human
CULTURE: Free
FLAG: See above
MOTTO: Till Death we do serve
ANTHEM: The Trooper
CAPITAL: Alpha 318
SUB CAPITALS: None
LARGEST CITY: Alpha 318
OFFICIAL LANGUAGE: English
NATIONAL LANGUAGES: English
CLASS SYSTEM: Follows a Military Chain of Command
SIGNIFICANT RACES: Human
Kridor History:
Edit
The history of Kridor has been lost after the last Great Nuclear war which caused the great library'sof Kridor to be burned to the ground thus loseing years of history until recently.
Foreign Relations:
Edit
The Nex
Trade Partners:
Edit
Draken Hoth Republic (DHR)
The Normans
Dark Triunvante
There may be other races out there Kridor yet to discover
Military Power:
Edit
Kridor Military are trained from a young age to fight and be disciplined and when they reach the age of active duty depending on what kridor are doing in the surrounding systems then they are shipped of either to war or on duty stationed on a planet.
The Celerian
2Cl per £1 or 50c
The Kridor banks give the soldiersor females there weekly wages of 100Cl a week to keep the soldiers going and there wives or widows of war. Seeing as everyone on Kridor is payed the same it is very hard to have more money than another person.
Science and Technology:
Edit
Current Science pack with the DHR
Races of Kridor:
Edit
Humans- Make up the work force and Military of Kridor
mercenary's- Kridor Service personel that love the extra thrill of Killing
Protectors- Badly Wounded Troops grafted into Heavily Armored Suits and continuing to fight on along there human Comrades.
Religion:
Edit
Kridor don't follow any religion